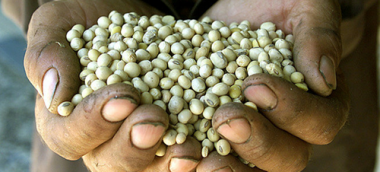 Climate Resilient Agriculture in three of the Vulnerable Extreme northern crop-growing regions (CRAVE)
Increasing climate-resilience and reducing the food insecurity of subsistence farmers in Namibia
Northern small-scale subsistence farming communities of Namibia are vulnerable to climate-related challenges as incidents of drought and high temperatures increase. The communities in Zambezi, Kavango East and West are dependent on primary production and natural resources, rely on rain-fed (dryland crop production) agriculture, and have limited livelihood options and employment opportunities. These communities experience high levels of poverty, and climate change is expected to lead to reduced crop yields, loss of ecosystems services (such as water purification and biomass energy) and ecosystem degradation.
The CRAVE Project, financed by the Green Climate Fund, will reduce food insecurity by allowing beneficiaries to acquire abilities to adopt conservation agriculture and climate-resilient agricultural practices to produce food, as well as providing them with access to renewable energy.
The project will scale up the adoption of adaptive measures such as conservation agriculture and micro-drip irrigation. A Centre of Excellence, the Mashare Climate Resilient Agriculture Centre of Excellence (MCRACE) will also be established, which will carry out demonstration pilots including a fertilizer mixing plant, organic manure and guano trials. Farmers will be provided with sustainable access to off-grid solar energy technologies including water pumping for small-scale micro horticultural systems, and refrigeration for harvested food, reducing the dependency on imported fuels.
Open project website/webpage