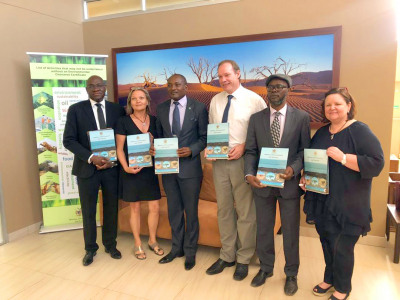 Windhoek, 13 November 2018:
A total of 1,499,442 tourists were recorded to have arrived in Namibia in 2017, reflecting an increase of 2,1% from 2016. This was one of the key findings from the country's Tourist Statistics Report 2017, launched by Environment and Tourism Minister, Pohamba Shifeta, at a Press Conference in Windhoek.
The report points to an increase in closer and more positive collaboration between travel agencies, hospitality establishments and tour planning and safari companies, key components of Namibia's multi-faceted tourism industry.
"This sector's development and growth depends on collaboration and partnerships with government, industry and all stakeholders, and on host communities across our country", said Shifeta in his keynote address. "The continued success of our sector lies in the development and the management of people working in the sector in ensuring inclusive economic growth, tourism development and job creation", the Minister further stated.
The report strongly backs the importance of tourism as one of the pillars of Namibia's economy. A copy of the full Tourist Statistical Report is available at the Directorate of Tourism - for more information contact, Elise Hashikutuva by email at elise.hashikutuva@met.gov.na or on telephone number, +264-61-2842089.