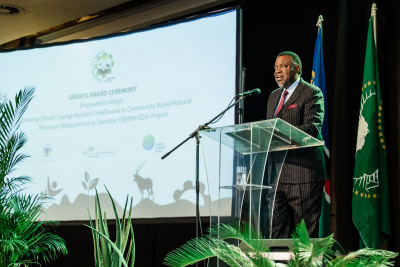 The Grants Awards ceremony took place yesterday the 11 June 2019 at the Windhoek Country Club, the awards was officiated over by His Excellency Dr. Hage Geingob who was assisted by Hon. Bernadette Jagger Deputy Minister of Ministry of Environment and Tourism, Hon. Pohamba Shifeta, Minister of Environment and Tourism and the Chief Executive Officer of Environmental Investment Fund Mr. Benedict Libanda.
The grants are part of a One Hundred and Forty Five Million Dollar (N$ 145 Million) Climate Adaptation Project Resilient Grant Facility for which the Environmental Investment Fund of Namibia mobilized financing from the Green Climate Fund for in 2016 titled, "Empower to Adapt: Creating Climate Change Resilient Livelihoods through CBNRM in Namibia." This Enhanced Direct Access (EDA) Pilot project, is financed by the Green Climate Fund (GCF), is built on the strong institutional foundation of the Namibian Community-based Natural Resource Management (CBNRM) network, which consists of communal conservancies and community forests in the rural communal areas of Namibia.
The nineteen (19) funded projects are all geared towards empowering rural CBNRM communities in Namibia by increasing their resilience to the negative climate change impacts such as protracted droughts, increased flood events, inadequate grazing, reduced crop production and livestock losses.
The grant list is availiable on this link below.
https://www.eif.org.na/download/list-of-the-cbnrm_eda-grant-projects?fbclid=IwAR1-_by6j1XMZGfTQUuV3OVr3vrCbDw-ey57z3OSvMXJLRt-tEY4kic2GTQ