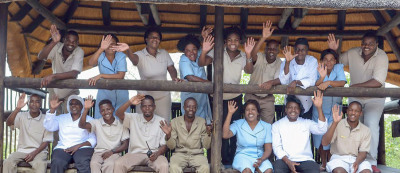 According to the United Nations 2015 report, Billions of the world's citizens continue to live in poverty and are denied a life of dignity. There are rising inequalities within and among countries. There are also enormous disparities in opportunity, wealth and power.
It is further proven that these disparities are widened by global health threats, more frequent and intense natural disasters, natural resource depletion and adverse impacts of environmental degradation, including desertification, drought, land degradation, freshwater scarcity and loss of biodiversity.
The fact that Climate change is one of the greatest and unprecedented challenges of our time is clearly an understatement. Its adverse impacts undermine the ability of all countries to achieve sustainable development and Namibia is not unique in this aspect. In actual fact, the country, one of the driest south of the Sahara faces impacts such as rising temperatures and surface evaporation rates, prolonged droughts and land degradation, posing a great threat on land-based economic sectors that Namibia relies on – tourism, agriculture, fishing, and energy generation.
At the Green Climate Fund, a paradigm shift has often been mooted as a solution to fight the adverse impacts of climate change. In keeping with the realities of the world, Namibia has followed suit and adopted elaborate strategies in its short and medium terms plans focusing on entrepreneurship and innovation.
Entrepreneurship has long been recognized as a fundamental engine for economic and non-economic development, triggering job creation and improved products and services. Entrepreneurs are accredited for ceasing the opportunity and satisfying a need in any given market. The current need in Namibia's growing towns and villages centers are innovative waste management solutions, renewable energy generation at macro and micro-scale, sustainable agricultural practices ring-fenced around smart water and energy applications, and sustainable tourism enterprises.
Economic and technological progress at any price, without considering societal development and environmental impact, is unsustainable and no longer feasible. Therefore sustainable entrepreneurship, presents the answer, as it is the business combination of - People, Planet and Profit. In Namibia, the EIF is positioned to finance such enterprises - enterprises that address social aspects (people), the environment (planet) and sustainable business practices (profit).
One such example is the financing of Hobatere Lodge; a tourism concession granted to the ≠Khoadi – //Hôas Conservancy in the Kunene region. Today the tourism establishment continues to conserve the rich fauna and flora within the concession area, boasts 30 full-time employees and contributes to the economy through multiplier effects.
The EIF continues to mobilize financing for investments into such and other entrepreneurial activities. While the climate financing through the Green Climate Fund and other multilateral funds, provide opportunities for communities and local authorities to build resilience to climate change, it also calls to action people and start-ups that embrace sustainable entrepreneurship and development.