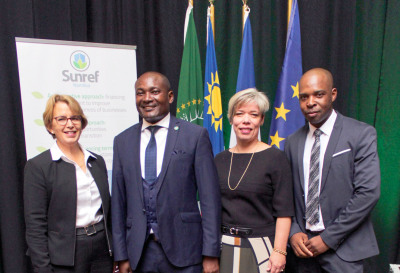 24 May 2018 - Windhoek, Namibia. The Minister of Environment and Tourism, Pohamba Shifeta officially launched the Sustainable Utilization of Natural Resources and Energy Financing programme (SUNREF Namibia) at an event at Safari Court, in the capital Windhoek, on 24 May.
An event dedicated to the promotion of a new green finance program in Namibia
The SUNREF 3-year programme, developed by the Agence Française de Développement (AFD) will mobilise private Namibian banks to finance private sector investments in green technologies in the sustainable agriculture, sustainable tourism, renewable energy and energy efficiency market segments. FNB Namibia, Bank Windhoek and Nedbank will provide this green line of credit to project sponsors, while the Environmental Investment Fund of Namibia hosts the Technical Assistance Facility (TAF) that will provide technical assistance to the three participating banks.
Speaking at the launch, Hon. Pohamba Shifeta outlined Namibia's commitment to the Paris Climate Agreement as embodied in the Cabinet-approved Intended Nationally Determined Contributions (INDC) document of 2015. "The INDC contains highly ambitious climate change adaptation and mitigation targets in a range of sectors such as energy, waste, agriculture and forestry and industrial production", he stated.
He also emphasized the importance of development financing in these sectors and called on increased investments in sectors such as waste management to ensure that Namibia does not lag behind in innovations such as waste-to-energy technologies. The event saw the showcasing of similar projects financed through SUNREF South Africa and selected projects that had been financed by the Namibian commercial banks through the initiative.
The French Ambassador to Namibia, H.E. Claire Bodonyi, Regional Director of AFD, Ms. Martha Stein-Sochas and representations of industry across various sectors of Namibia's economy attended the event.
SUNREF Namibia: an innovative program that supports local businesses to seize the opportunities of ecological transition
The aim of the SUNREF Namibia is to facilitate access to affordable green technologies, thereby guaranteeing the development of a low carbon environmental footprint and contributing to the reduction of the causes of climate change and other environmental disturbances in Namibia.
Financing to enterprises under this programme will be made available through the three participating commercial banks that will each disburse a total investment of 15 million Euros for green investments in the sustainable agriculture, sustainable tourism, efficient technologies, and renewable energy market segments.
About SUNREF:
SUNREF (Sustainable Use of Natural Resources and Energy Finance) is AFD's green finance label. In a context of energy and environmental transition, SUNREF helps private actors in Southern countries seize the opportunities of this transition via an innovative approach and encourages local banks to finance it. Since 2006, 42 SUNREF projects have been successfully implemented, in partnership with 70 local banks in some 30 countries of operation, for a total commitment of over EUR 2.5bn of loans allocated by AFD, of which EUR 1.2bn has been disbursed.