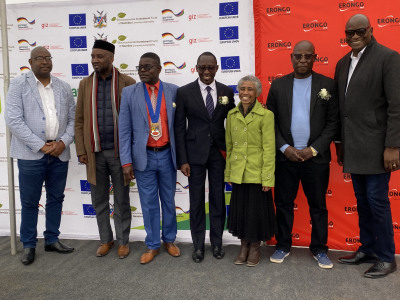 Erongo Region, August 31, 2023 – The Environmental Investment Fund of Namibia (EIF) and Erongo Red agreed to electrify thirty-two (32) homes under the Erongo Regional Energy Distributor (Erongo Red) on Thursday, 31 August 2023.
The MoU was signed by the Chief Executive Officer of Erongo Red, Mr. Immanuel !Hanabeb and Chief Operations Officer, Mr. Karl Aribeb of the EIF on behalf of the Chief Executive Officer, Mr. Benedict Libanda. The MoU is a formal commitment in complimenting each other's duties and functions pertaining to the solar electrification drive across three (3) earmarked windows to provide identified communities in the Otjozondjupa, Kunene, Erongo Region with concessionally funded solar installation along with mentoring, capacity building and technical development training to MSME owners in the regions.
"It is a reality that post- independence a significant portion of the Namibian rural and peri-urban population still do not have access to modern energy technologies and services. The existing supply of electricity cannot cover its demand, especially in times of a changing climate and increasing requirements for clean and sustainable energy solutions. Meeting this increasing demand, particularly in vulnerable rural communities and peri-urban (informal) settlements, is presenting a challenge because sustainable economic development and the achievement of Sustainable Development Goal (SDG) 7 (access to affordable, reliable, sustainable, and modern energy for all) is only possible if sufficient energy is available. Due to the increasing urgency of preventing and mitigating the impacts of climate change, the Paris Climate Agreement and SDG 13 (action to combat climate change and its impacts) require in addition that economic growth and sustainable development be powered by renewable energy, which also takes into consideration the needs for an inclusive and equitable development and access to energy" said the Governor of the Erongo Region, Neville Andre Itope.
He further added that through this initiative an electrification benchmark of up to 300 households and five (5) SME's will be achieved. "We will establish a working concept for the installation and supply chain function that speaks to current market needs. This collaboration will develop an alternative financing model that addresses a gap in the renewable energy financing segment, such as for example developing and applying funding models like concessional loans or results-based funding/development, targeting in particular female/women-lead, vulnerable households," said the Governor.
"The electrification drive further targeted individual households within the identified communities of which 50% are women headed households and MSME's looking to pilot and scale their inclusive business models and solutions are enterprises that include low-income people as customers, a owners, employees, producers and entrepreneurs at various points within the value chain" said Aribeb. The community identified under Erongo RED for the TIDRET rural electrification component were the Shack Dwellers Community Houses in Swakopmund in the Erongo Region. Aribeb said that the homeowners are low-income working individuals, who cannot afford to purchase supply equipment to connect to the grid due to the costly pricing of electrical installations.
The Project Management Unit (PMU) identified priority communities for electrification via extensive stakeholder engagement and recommendations from the Ministry of Urban and Rural Development – the custodians for development in rural and peri-urban Namibia as well as the respective regional energy Distributors. The criteria used to affirm recommendations were the proximity of the said areas from the grid and further the demographics of the said communities.
The MoU coverage is further focused on strengthening efforts for joint advocacy supporting the achievement of the ambitious targets under the NDC and green economy agenda, which will directly tackle the several systematic barriers that have been identified in terms of the NDC implementation including addressing the gaps in implementing NDC's. It also includes institutional, human, and technical capacity, inadequate financial resources, the need for stronger stakeholder engagement and to address the challenge of lack of access to electricity in rural and peri-urban areas and specifically investigate innovative financing and support mechanisms for the electrification of these areas.
Aribeb said that although much progress has been made, it remains a reality that more work needs to be done and calls on other stakeholders to work together to share developmental ambitions and national progress.
The signing ceremony took place in Mondesa, Swakopmund and was attended by Swakopmund council representatives, Ministry of Mines and Energy representatives, Ministry of Environment, Forestry and Tourism, the Deutsche Gesellschaft für Internationale Zusammenarbeit (GIZ) representatives and European Union team members, with performing acts by the DRC community members and the Swakopmund Acapella Youth Group.
For more information about the event, contact the Project Support Officer, Kgomotso Mokgatle, at kmokgatle@eif.org.na or at +264 61 341 7700.