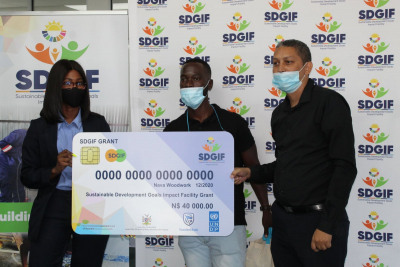 Yesterday marked the first Sustainable Development Goals Impact Facility Grant Handover Ceremony at the UNDP Multipurpose Hall.
A total of 32 fledgling and aspiring entrepreneurs received N$2.531,164.00 million worth of grant funding.
The funding comes from the recently launched Sustainable Development Goals Impact Facility (SDGIF), a multi-stakeholder financial and capacity building platform, that bridges entrepreneurship, social innovation, and blended capital to create sustainable economic and social returns.
Speaking at the event, the Fund's Head of Corporate Communications, Lot Shidumifa Ndamanomhata Jnr , on behalf of the CEO, Mr. Benedict Libanda, noted the importance of the getting the right financing to meet the SGDs and Vision 2030. "Domestic finance and international development cooperation remain central for the achievement of the SDGs. From the Environmental Fund of Namibia perspectives, we see smart partnerships to have a catalytic impact in crowding when it comes finance from the private sector. Hence private sector cooperation is important. We should not forget that the private sector growth is a key driver of economic development and job creation in many contexts" said Ndamanomhata.
Dr. Armstrong Alexis, Deputy Resident Representative UNDP Namibia, noted that the SDG Impact Facility has a resource base of N$8 million which can be accessed by entrepreneurs with sustainable, environmentally friendly business ideas. "The facility has issued one call and will issue two more during 2021. We anticipate that through these three calls for proposals, the facility will support between 100 and 120 up and coming business. One element of the facility will comprise grants that are aimed at MSMEs operating in the sustainable agriculture, artisans, nutraceuticals, sustainable tourism, manufacturing, renewable energy, and Information Technology sectors" he added.
The two-tier system is purposely designed to be inclusive. In Tier One: Successful MSMES received a once-off, limited duration grant, typically covering up to 50% of project costs (or up to N$650,000 as appropriate) with the remainder to be matched by the entrepreneur's own contribution or a loan from a financial institution. In Tier Two, Vulnerable MSMEs that are unable to secure a loan will receive a once-off, limited duration grant, usually covering up to 90% of project costs (or up to N$50,000 as appropriate) with the remaining 10% to be matched by the entrepreneur's own in-kind contribution. During this first call the facility received over 150 proposals from Tier 1 and Tier 2
Thus, from the 150 grant applications, the committee approved 6 Tier 1 grants totaling N$1.8 million and 26 Tier 2 grant applications consisting of formal and informal sector operators and totaling N$750 000. In total therefore the first call of the SDGIF, after its first 6 weeks in operation has been able to approve a total of 32 entrepreneurs for financial and business support.
50% of Tier 1 grant awardees are female and 66% young people. The leading economic sector that received the most grant applications under Tier 1 was the agriculture sector followed by artisans and nutraceuticals. Under Tier 2, 65% of the awardees are female and 85% Youth. The leading economic sector that received the most grant applications under Tier 2 came from the artisans' sector followed by agriculture.
Grant applications were evaluated based on the respective criteria for Tier 1 and Tier 2 in addition to business proposals that presented market-based solutions that were innovative and scalable. All proposals received were guided by UNDP Namibia and EIF's principles of fairness, objectivity, and integrity.
Dr Michael Humavindu, Executive Deputy Director at Ministry of Industrialisation and Trade also said that through the SDG Impact Facility, the Ministry wishes to support young entrepreneurs and have them become potential suppliers for local and regional value chains while having significant aggregated social-economic impact. When you handed in the grant application for funding, you had a vision for your business, you wanted to innovate and grow, I implore you to focus on that vision and build your business wisely" he said.
The SDG Impact Facility will provide you with Business Development Health Checks during your grant contract period – this is in order to make sure that we are providing the support you need to make your innovation a success. Understand that you are helping Namibian communities grow by providing employment and alleviating poverty.
The SDGIF was created in partnership with the Ministry of Industrialisation and Trade (MIT) and UNDP Namibia and supported by the facilities finance partner Standard Bank Namibia and grant facility manager Environmental Investment Fund of Namibia (EIF). Fulfilling the promise of the UN Sustainable Development Goals (SDGs) requires multi-sectoral approaches that bring together expertise from a range of perspectives. The SDG Impact Facility provides competitive catalytic funding to Micro-Small-Medium Enterprises (MSMEs) with commercially viable businesses in the targeted economic sectors. The grant funding is provided by UNDP and it is intended to incentivize financial institutions to provide affordable long-term loans so that funding becomes more easily available to enterprises. The SDG Impact Facility is coupled with business development support services offered by Empretec Namibia under the Ministry of Industrialisation and Trade.