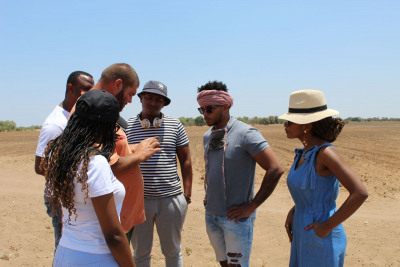 By Nicole van Wyk & Lot Ndamanomhata
In February 2020, Cabinet decision no: 1st CCOPP/14.02.20/007 took note and supported the High-Level Panel on the Namibian Economy presentation titled "New Green Economy 2030 Program" as one of the interventions to propel economic growth in Namibia. Besides having low carbon outcomes, the programme is characterized by maintaining, enhancing, and where necessary and feasible, rebuilding natural capital as a critical economic asset and source of public benefits, especially for the poor and disadvantaged Namibians. The decision directed the Ministry of Environment, Forestry and Tourism, and the Ministry of Fisheries and Marine Resources to oversee implementation, led by the Growth Catalyst Fund, while the Environmental Investment Fund was tasked with the responsibility of providing technical coordination and stakeholder's engagement. On 26 February 2020, a budget-neutral and non-financial binding Memorandum of Understanding was signed between the EIF and the Growth Catalyst Fund.
The NGE2030 program is aimed at generating renewable energy products such as green fuels, green electricity, and green gas along with other green co-products such as green animal feed and green polymers, etc. for local use and export purposes while creating green development zones. These outputs are generated using the unique desert resources that will be transformed from scarcity to abundance through the greening agenda and suitable technology in the region. The key features of the NGE 2030 program are that it must result in decent jobs created for people in the regions, more wealth transferred to rural areas, increased exports to generate positive foreign currency reserves for the countries in the region, while driving a reduction in the poverty levels for people in the region.
NGE 2030 is a catalytic economic program within the Green Marshall Plan for Africa and provides a practical route, a just transition of a low-carbon path of development through an output of zero-emission products from new green industries, created from the sustainable utilization of Africa's natural assets that considers the interest of workers, communities and broader society. In addition, the programme is set to become the first Zero Emission country in Africa and to generate rural wealth in Namibia. This program also aims to address the many challenges faced in the country such as the harsh impact of Climate Change, lack of development, unemployment, poverty, drought, and income inequality.
As the new year of this decade commences, much remains to be done to sustain and develop the envisaged New Green Economy 2030 for Namibia.
Namibia is highly committed to achieving its global agenda's implantation status such as the Sustainable Development Goals (SDG's) and the long-term national development framework, Vision 2030, especially in the area of environmental sustainability and combating climate change.
The Fund in conjunction with Growth Catalyst Fund had Regional engagements on the New Green Economy. Selected regions where the project envisioned impactful projects were visited and engagements were held with the respective stakeholders including all regional governors, regional councilors, local authorities, traditional leaders but to mention a few.
Planning and preparations for this program started as early as 2019 which saw a lengthy nationwide scoping trip befall in 2020. This scoping trip was steered to provide an overview of the environmental impacts, to identify certain bearings, possible gaps, processes, resources acquired in each region, to address these shortcomings, and strategize the transformation of scarcity into abundance. The trip commenced on Sunday, 4 October, and ended on Friday, 23 October 2020. The teams included 4 Growth Catalyst Fund (GrCF) members and 7 teams of the Environmental Investment Fund of Namibia, as the implementation partner. The team traveled through all 14 regions of Namibia having started in the Kavango West, then Kavango, Zambezi, Ojtozondjupa, //Kharas Region, and Omaheke regions.
With every region facing its own challenges, the Project Manager, Triston Borah acknowledged the abundant land Namibia possesses but is faced with trials such as the scarcity of water, route to market, and skills. "The aspect of water scarcity will be countered with smart and sustainable desalination technology for Saline and Brackishwater aquifers in locations that possess the sources and the same sustainable principles and technology will apply to regions with freshwater sources," said Borah speaking on the water issue. As for the difficulty of the distribution channels, he said "this will be addressed by innovating the current logistics value chain such as TransNamib, Namibian Ports Authority and other logistics companies towards a greener and long-term sustainable transport solutions to ensure the export of goods produced are authentically green, from farm to consumer" he further stated. However, with plenty of unused land or plots, the room for generating biomass, energy, aquaculture, hydroponics, agroforestry on these modules is good for multiplying what is already in place. Some sites presented themselves to be rich in growing walnuts, almonds, green peppers, tomatoes, cabbage, spinach, onions, and much more.
In the Ojtozondjupa region, having visited the National Youth Service Centre at Rietfontein, at the training center they produce white and yellow maize, hay bales, a variety of vegetables, maize meal, mahangu flour, and milk. With all of these riches, they still face challenges such as low yields under dryland production due to unreliable rainfall which is largely attributed to climate change, bush encroachment, and high utility costs. The NGE 2030 envisions that this center can be irrigated with Lucerne production, irrigated maize and vegetables, a solar plant, and bush feed production.
An integral part of running these Smart Agricultural Farming Modules will see the individuals on the ground using Reality-Based Training and development tools to successfully manage these modules. With the training comes real-life issues which will need to be dealt with by the participants, thus the GrCF is structuring a Professional Development Fund which will focus on the skills development component for entrepreneurs, professionals, and governance executives who will participate in the NGE 2030 programme according to Triston Borah. Each module is expected to export 500,000 tons of green animal feed such as Lucerne, export 400,000 liters of green airline fuel, 110,000,000 liters a year of green desalinated water, 300 MWe of peak load power, 290,000 hectares of desert altered to farmland, 410,000 sustainable jobs created and will source its own fuel, milk, dairy, and vegetables, generate and sell electricity.
The NGE program is implemented by the Growth Catalyst Fund, which is a social wealth fund built by a network of African professionals and entrepreneurs. Implementing solutions in a meaningful manner with the idea of filling the gap left by both government and the private sector and will be assisted by the Environmental Investment Fund tasked with the responsibility of providing technical coordination and stakeholder's engagement in Namibia. The Fund will in due course update the nation upon the availability of the finalized scooping report.