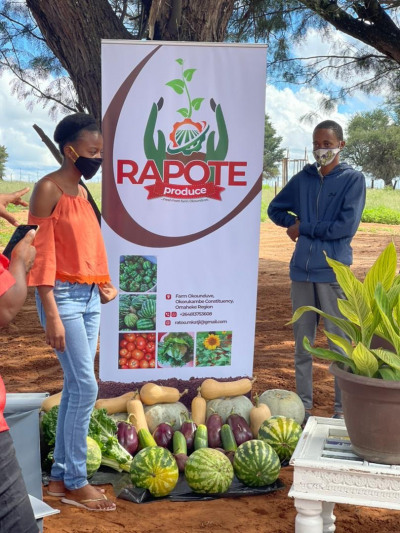 On, Saturday, 27 February, the Environmental Investment Fund of Namibia joined Rapote Investments CC for a day which celebrates woman crop farmers in the Omaheke Region. The women's crop farmer's sensitization day was hosted under the theme of "crop farming to mitigate the effects of climate change and Covid-19". This one-day event saw the gathering of 45 women, of which some were existing farmers and others aspiring farmers.
According to the founder and organizer, Ratonda Katjivikua, Rapote Investment CC is a newly established farm venturing into crop / vegetable production, operating in the Omaheke Region, at farm Waldhohe (Okounduve). While experimenting with a variety of vegetables on a small-scale basis, she said that she has learned a lot about her environment and which crops to grow, and in which season.
During this period, Katjivikua also highlighted that she encountered many challenges and is trying by to address these challenges by all means, hence it necessitated the reason for this event. "Some of the challenges we face here are lack of enterprise, skilled manpower, finances, industry support and access to local markets." This is why she saw the need to invite other woman and engage them on these common challenges as crop farmers.
Representing the Fund, was Corporate Communications Assistant Nicole van Wyk. Considering the nature of the event, Van Wyk briefly touched on the EIF's commitment to the policy on gender mainstreaming. "The Fund is committed to confronting the challenges of gender discrimination and advocates for gender equality." Van Wyk said. She further uttered that it be imperative for Namibians to promote this empowerment in order to close gender gaps and applauded Katjivikua on hosting such an event which allows for dialogue and addressing issues faced by female farmers.
Other educational topics that made up the programme were matters concerning organic fertilizers, compost preparations and usage, types of irrigation systems and considering different crops for different seasons. Furthermore, soil preparation, seed preparation and seed planting.
Rapote Investments CC is a recipient of the UNDP SDG Impact Facility, which was launched in November 2020. UNDP Namibia, Standard Bank Namibia (SBN), Ministry of Industrialization and Trade (MIT) and the Environmental Investment Fund of Namibia (EIF) have jointly established the Sustainable Development Goals Impact Facility (SDGIF). The SDG Impact Facility provides grant financing to women and youths in business, social enterprises, and micro, small and medium enterprises (MSMEs). According to the SDG Impact Facility Coordinator, Kgomotso Mokgatle, "the facility will consist of 3 grant call for proposals during the respective earmarked windows (of which window 1 has been concluded) to provide competitive matching grant awards as well as mentoring, capacity building and entrepreneurship development training to MSMEs, operating in any of the targeted sectors," she said. Window 2 will embody sustainable tourism and manufacturing and will resume from March 2021 and Window 3 is all about Renewable energy and Information Technology for July 2021. The call for proposals for Window 2 run from the 1st March 2021 and close on 5 April 2021.
This is only the first of many such engaging events planned by Rapote Investments CC. According to Katjivikua, she will be making it a habit to host such engaging and important events, under different themes.