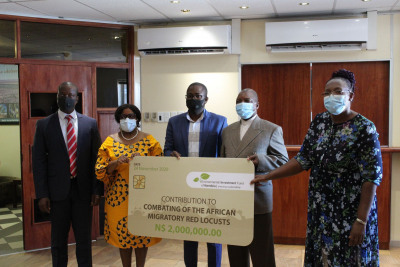 Today the Environmental Investment Fund of Namibia handed over N$ 2 Million towards combating the outbreak of the African Migratory Red Locusts in the Northern regions of Namibia.
Since the second occurrence of the outbreak in early August, the locusts have managed to destroy 500 hectares of grazing land in the Zambezi Region. The outbreak holds an immense threat not only to the aspect of food security but because farmers are beginning ploughing preparations.
Speaking at the event, Head of Communications and Corporate Services, Mr. Lot Ndamanomhata, on behalf of the Chief Executive Officer, Mr. Benedict Libanda said that with this small contribution, it is with hopes that this assistance will go a long way. "At the Environmental Investment Fund, we see these challenges as opportunities to be transformative and introduce a paradigm shift to business unusual" said Ndamanomhata. He further urged businesses, organisations and stakeholders, to get involved where possible in order to secure vegetation and ensure food security is not undermined.
In his speech, the Executive Director of the Ministry of Agriculture, Water and Land Reform, Mr. Percy Misika, reminds us that the agricultural sector remains pivotal to the lives of majority of the Namibian people, supporting over 70 % of the country's population for sustenance, incomes and livelihoods. "So far we have taken the following measures of deploying spraying teams comprising of thirty-five (35) trained staff members, dispatched fourteen (14) vehicles, mist blowers, four (4) vehicle mounted sprayers, 4 175 litres of pesticides to contain the outbreak, amongst other things." Misika said. he added that the funds received from the EIF will be used to purchase more biological pesticides 312 kg), mist blowers (14), protective gear (200), gloves (200), gumboots (200) disposable overalls (200), chemical respirators (100) and goggles (100). "This contribution and dedication by the EIF is uplifting the agricultural sector during hard times like these. I would like to commend the EIF for such great gesture which will support the combating of African Migratory Red Locust outbreak and safeguard food production and the livelihoods of the populations that depend on agriculture." Misika uttered.
The first African Migratory Red Locust outbreak was reported in February 2020, which saw it affect the Zambezi, Kavango East, Kavango West, Ohangwena, Oshikoto, Oshana, Omusati, Omaheke and Ojtozondjupa Regions, thus affecting 9 of the 10 crop growing regions.