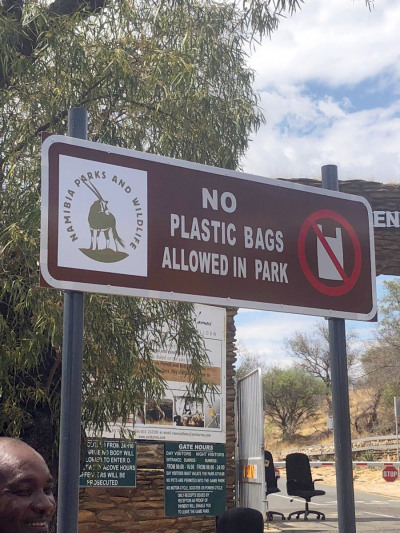 22 November 2018, Windhoek
Minister of Environment and Tourism, Hon Pohamba Shifeta announced the ban of plastic carrier bags from all Protected Areas in Namibia, at a Press event at Daan Viljoen Game Park on the outskirts of Windhoek. The announcement signified the Ministry's serious commitment to control pollution in Namibia in line with the National Solid Waste Management Strategy, the National Development Plan and United Nations Sustainable Goal No. 3 on health and wellbeing.
"I would specifically wish to inform the nation and the tourists visiting our country that plastic bags are banned in our protected areas. Government Gazette No. 6285 of April 2017 amended the regulations of the Nature Conservation Ordinance of 1975 with the insertion of a new provision that no person shall enter a game park or nature reserve with a plastic bag", Shifeta stated.
The amendment in the law, however, makes provision for some exceptions such that a person may still enter a game park or nature with types of plastic bags that:
- Are designed to be used for the disposal of waste;
- Are designed for agricultural purposes;
- Are used for sampling or analysis;
- Constitute, or form an integral part of, the packaging in which goods are sealed for sale; or
- Are transparent resealable bags.
A person who contravenes this ban is liable to a fine not exceeding N$500 or to imprisonment not exceeding 6 months or to both such a fine and such imprisonment.
The Minister called on all tourists not to carry plastic carrier bags into Namibia's protected areas. He also urged tour operators, tourism associations and the Namibia Tourism Board to convey this message and new measures to their respective clients and customers.
Lastly, I herewith notify all visiting tourists and the general public that we will be stepping up our efforts to enforce this ban over the coming months. Namibia's game parks and nature reserves are areas of outstanding natural and ecological value that are managed to protect their ecological integrity and for the
long term conservation of nature.