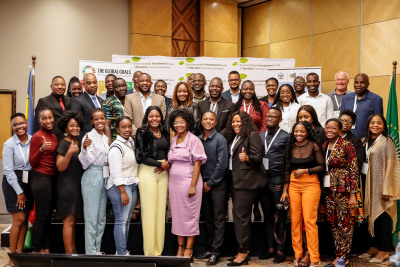 Media Release
NILALEG NATIONAL PPP CONFERENCE ON ADDRESSING BIODIVERSITY FUNDING GAPS!
Windhoek Country Club and Resort, Windhoek, Khomas Region, Wednesday 6th September 2023 –The Namibia Integrated Landscape Approach for Enhancing Livelihoods and Environmental Governance to Eradicate Poverty (NILALEG) Project yesterday (5th September 2023) led by the Environmental Investment Fund of Namibia (EIF) as the Implementing Partner, hosted the national Public Private Partnership conference on Integrated Landscape Management (ILM) Funding gaps and opportunities for sub-aimed at maximizing the economic potential of scaling up integrated landscape management and nature-based enterprises in the country. The overall objective of the conference was to explore the potential ways to enhance access to finance, technical assistance and market information to pilot and scale up the integrated landscape management approach and sustainable enterprises.
The conference further sought to strengthen institutional coordination and governance mechanisms for integrated landscape management, addressing sustainable financing to drive green economic growth and socio-economic development in Namibia. The challenge lies in insufficient investment, both public and private, for scaling up integrated landscape management approaches due to risks and land tenure insecurity. To overcome this, the conference sought to harness the potential of Public- Private Partnerships (PPPs) as a collaborative force for achieving sustainable development. The conference is part of the NILALEG project's activities to promote sustainable finance mechanisms for integrated landscape management and brings together various stakeholders to develop a shared consensus for the implementation of Integrated Landscape Management (ILM) strategies for addressing biodiversity funding gaps, creating a landscape investment platform, and addressing obstacles to private sector investment in biodiversity value chains and green businesses.
The conference was officiated by Hon. Pohamba Shifeta, Minister of Environment, Forestry and Tourism.
In his address Shifeta highlighted that "Namibia's rich natural heritage is at the heart of our identity, but it is also an invaluable resource that, if managed wisely, can lead to prosperity for all. The NILALEG Project's mission is to reduce poverty, protect our forests, and promote sustainable nature- based livelihoods aligns perfectly with our vision for a more resilient and thriving Namibia".
Shifted further denoted that "this gathering is not just a conference; it is a testament to our shared commitment to the sustainable future of Namibia's landscapes, its people, and its biodiversity. The NILALEG Project, which we proudly support, embodies the spirit of integrated landscape management—a holistic approach that recognizes the interdependence of nature, communities, and economic development".
The conference brought together sector actors from government, private sector, technical specialist, civic society and commercial banks, in order to develop a shared consensus for coherent implementation of the ILM initiatives in the state and regional forests. The conference themed discussions around Forging Collaborative Capitalization Strategies, De-risking Nature-Based Investments and Leveraging Integrated Landscape Management.
The conference recommendations was strong on the creation a forum for dialogue and collaboration between different stakeholders and to identify actionable strategies for integrated landscape management that can be implemented at different levels. A generated generated report from the conference will be shared with key decision-makers and stakeholders to inform policy and practice.
The NILALEG PPP was held under the theme "Fostering Prosperity Through Public-Private Collaboration: Pioneering the Integrated Landscape Financing Approach," enfolds our shared commitment to leaving no one behind, a principle deeply woven into our national ethos.
To ease of following the discussion on the NILALEG National Public Private Partnership (PPP) Conference on Addressing Biodiversity Funding Gaps held on the 5th September 2023, click on the link below: https://fb.watch/mU3KR0cEyD.
About NILALEG:
The NILALEG project is funded by the Global Environmental Facility (GEF) through the United Nations Development Programme (UNDP), to the tune of Ten Million, Eight Hundred Twenty-Three Thousand, Seven Hundred and Forty-Four US Dollars (US$ 10,823,744). The project aims to reverse environmental degradation and maximize sustainable livelihoods based on nature through integrated management of Namibia's rural landscapes. The project aims to reverse environmental degradation and maximize sustainable livelihoods based on nature through an integrated management of Namibia's rural landscapes.
About EIF
The Environmental Investment Fund is Namibia's own response to the growing global need for green financing. Established in terms of the Environmental Investment Fund Act, Act 13 of 2001 with a mandate to raise funding for investments into projects and programmes that promote sustainable development it is currently one of the fastest growing green and climate financing institutions in Africa. As part of its vision to be "a recognized leader in the development and application of innovative financing mechanisms to support sustainable development and ensuring inclusive development for all the people of Namibia.
Amongst its recognizable impacts to date since inception, the Fund has disbursed grants valued at more than N$ 2.3 billion, ensured that more than 240, 256 hectares of land are under conservation, 71 grants approved for different environmental projects, created more than 950 employment opportunities mostly rural based and include season ones and retrofitted 120 boreholes that benefitted more than 77 000 who now have access to portable drinking water and attracted N$ 820 million for concessional Green Credit Line with participating commercial bank from Agence Française de Développement (AFD) under the SUNREF project in Namibia. To-date attracted and mobilised more than N$3 billion mostly from multilateral and developmental funding institutions and partners.
For more information on the EIF visit: http://www.eif.org.na
For more information on the NILALEG Project: https://nilaleg.eif.org.na