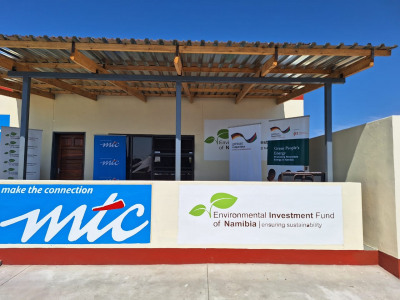 Media Release
For Immediate Release
HISTORIC INAUGURATION OF NAMIBIA'S FIRST COMMUNITY SEED BANK AT SHARUKWE, KAVANGO WEST REGION
SHARUKWE, Kavango West Region - 9th November 2023
Namibia takes a substantial step toward agricultural sustainability with the inauguration of its first Community Seed Bank at Sharukwe village in Kavango West. This landmark project, funded generously by the Environmental Investment Fund (EIF), MTC, and GIZ, signifies a pivotal moment in preserving biodiversity and ensuring food security. With an investment exceeding N$500,000, the Sharukwe Seed Bank emerges as a crucial repository for local seeds.
The primary objective of the Sharukwe Seed Bank is to safeguard natural resources by preventing the over-exploitation of various seed varieties. This proactive intervention not only prevents resource depletion but ensures the preservation of seeds for the benefit of future generations. While the immediate impact is felt in Kavango West, its significance resonates nationally, contributing significantly to Namibia's overall food security.
Community Seed Banks play a pivotal role in collecting, storing, and protecting local seeds. In times of crop damage or destruction, these banks serve as an emergency seed supply, ensuring farmers can access seeds for the next planting season. Although Namibia embarks on its first community seed bank journey in 2023, neighboring countries like Zambia, South Africa, and Zimbabwe have long embraced this practice, with Zimbabwe boasting an impressive 26 community seed banks.
The Sharukwe Seed Bank, situated in the Ncuncuni Constituency, aligns seamlessly with SDG Namibia One, integrating sustainable development into all aspects of its operations. Beyond safeguarding seeds, the project emphasizes the broader goal of protecting natural resources, promoting environmental sustainability, and ensuring that Namibia's future generations have access to diverse and resilient agricultural resources.
In his keynote address, Director of Forestry in the Ministry of Environment, Forestry, and Tourism, Johnson Ndokosho, affirmed the government's commitment to expanding such infrastructure. "The Ministry is going to continue to establish this type of infrastructure; we are planning to construct one in Kavango East and around the Ndiyona area, then another one in Omusati, and another one in the Oshikoto Region in the coming five years."
Kavango West Governor Sirkka Ausiku echoed this commitment by calling on other private entities to support similar community upliftment projects across the country. The Sharukwe Seed Bank's inauguration reflects a collaborative effort with a shared vision for environmental sustainability.
The inauguration stems from the Memorandum of Agreement (MOA) signed between EIF and MTC. Lot Ndamanomhata, EIF Manager: Corporate Communications, highlighted, "This initiative extends beyond financial backing; it embodies a shared commitment to environmental sustainability and the preservation of our natural heritage." MTC's Fikameni Mathias emphasized the need to preserve traditional ways of life through seed banking, stating, "Just as much as we speak about smart farming or smart crop production, we now need to talk about preserving the fruits we eat today to ensure that those who will come after us must enjoy the same food and fruits that identify them."
The local community in Sarukwe, led by Ncuncuni constituency councillor Leopoldine Nseu, expressed profound appreciation for the seed bank's historic significance. Launched on November 9, 2023, the community eagerly embraced its potential to preserve rare and valuable food species.
The collaboration between EIF, MTC, and GIZ extends beyond financial support, symbolizing shared values in preserving biodiversity and addressing climate change challenges. This partnership represents a beacon of resilience and sustainable development, signifying a collective responsibility toward environmental and social goals.
As the Sharukwe Seed Bank is inaugurated, Namibians are urged to uphold and utilize this infrastructure, symbolizing a shared commitment to a cleaner environment and biodiversity preservation. This initiative marks the beginning of a sustainable journey, fostering hope for future generations and contributing to Namibia's environmental stewardship and agricultural sustainability.
For more information on the EIF visit: http://www.eif.org.na/
For media inquiries, please contact:
Contact Person: Lot Ndamanomhata
Manager Corporate Communications Environmental Investment Fund of Namibia (EIF) Tel: +264 811601846/+264614317706
Email: LNdamanomhata@EIF.ORG.NA
The Environmental Investment Fund is Namibia's own response to the growing global need for green financing. Established in terms of the Environmental Investment Fund Act, Act 13 of 2001 with a mandate to raise funding for investments into projects and programmes that promote sustainable development it is currently one of the fastest growing green and climate financing institutions in Africa. As part of its vision to be "a recognized leader in the development and application of innovative financing mechanisms to support sustainable development and ensuring inclusive development for all the people of Namibia.
Amongst its recognizable impacts to date since inception, the Fund has disbursed grants valued at more than N$ 2.13 billion, ensured that more than 240, 256 hectares of land are under conservation, 71 grants approved for different environmental projects, created more than 950 employment opportunities mostly rural based and include season ones and retrofitted 169 boreholes that benefitted more than 77 000 who now have access to portable drinking water and attracted N$ 820 million for concessional Green Credit Line with participating commercial bank from Agence Française de Développement (AFD) under the SUNREF project in Namibia. To-date attracted and mobilised more than N$3.5 billion mostly from multilateral and developmental funding institutions and partners. For more information visit: http://www.eif.org.na