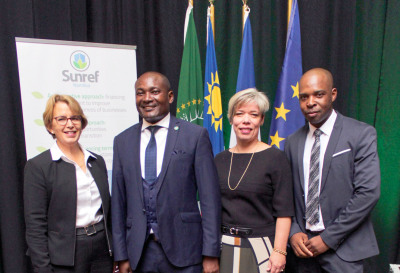 The Namibian - News - Environment | 2018-06-07, Page no: 8. by Matthew Dlamini
The Sustainable Utilisation of Natural Resources and Energy Financing programme (SUNREF Namibia), is a three-year initiative by the French Development Agency (AFD), dedicated to promoting a new renewable energy finance programme in Namibia.
The innovative programme, which was formally launched in Windhoek by environment minister Pohamba Shifeta on 24 May 2018, is aimed at supporting local businesses to start or expand existing businesses in renewable energy and tourism sectors.
Sunref Namibia will facilitate access to affordable green technologies, thereby guaranteeing the development of a low carbon environmental footprint and contributing to the reduction of the causes of climate change and other environmental disturbances in Namibia. Financing of enterprises under this programme will be made through loans from three participating commercial banks – FNB Namibia, Bank Windhoek and Nedbank – that will each disburse a total of 15 million euros for green investments in sustainable agriculture, sustainable tourism, efficient technologies and renewable energy segments.
The programme seeks to finance private sector investments in green technologies in the sustainable agriculture, sustainable tourism, renewable energy and energy efficiency market segments. The programme is being deployed by the Environmental Investment Fund of Namibia (EIF), that will host the technical assistance facility that will support the participating banks as well as project developers throughout the implementation of the programme.
Speaking at the launch, Shifeta highlighted Namibia's commitment to the Paris Climate Agreement as embodied in the Cabinet-approved intended nationally determined contributions (INDC) document of 2015.
"The INDC contains highly ambitious climate change adaptation and mitigation targets in a range of sectors such as energy, waste, agriculture and forestry and industrial production," he stated. He also emphasised the importance of development financing in these sectors and called on increased investments in sectors such as waste management to ensure that Namibia does not lag behind in innovations such as waste-to-energy technologies.
Similar projects financed through Sunref South Africa and selected projects that had been financed by the Namibian commercial banks through the initiative were showcased at the launch.
In Namibia, these include the solar PV plant for the refrigeration of fish installed by the Atlantic commercial cold storage for N$3,4 million at Walvis Bay and the N$110 million Aussenkehr PV plant in the south, which generates 5MW of electricity.
In South Africa, the Bronkhorstspruit biogas plant that uses manure from 25 000 cows to electrify BMW's Rosslyn factory, was built through a 9,5 million euro (N$144 million) Sunref loan. It is the biggest biogas plant in southern Africa.
The French ambassador to Namibia, Claire Bodonyi, reiterated her government's commitment to the Sunref programme as well as the Paris Agreement. "France is the fifth leading donor to Namibia and in support for climate change we need to act – not for us but for our children – France will not give up the fight. The Paris agreement is irreversible and will be implemented. There is no Planet B," she said.
Representatives of the participating banks took part in a panel discussion where they answered questions from the audience.
Regional director of AFD, Martha Stein-Sochas reiterated that the Sunref programme is a less expensive loan facility and not a grant, to provide "funds to local industries for green projects. This will help start-ups and small enterprises to access cheaper finance".
Since 2006, 42 Sunref projects have been successfully implemented, in partnership with 70 local banks in about 30 countries, for a total commitment of over 2,5 billion euros in loans allocated by AFD, of which 1,2 billion has been disbursed.
– mathew@namibian.com.na