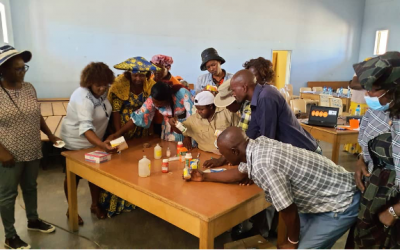 The IREMA project recently conducted the training for small stock production which took place from 02 to 15 April 2023 at Khorixas and Opuwo respectively. The training saw 25 farmers mainly 11 male and 14 female farmers and 19 farmers from marginalized groups such as the Himba, San and Zemba receiving training on small stock production. The overall goal of the training is to enable goats' beneficiaries who received goats from IREMA & MAWLR in 2022 to increase their knowledge and skills in sustainable small stock farming and production/husbandry practices including marketing, revolving scheme regulations and challenges faced by beneficiaries. The training was centered around improving small stock production knowledge, improving skills among beneficiaries, promote the small stock revolving scheme amongst beneficiaries and emphasis more revolving scheme by-laws.
The Environmental Investment Fund of Namibia (EIF) in conjunction with the Ministry of Agriculture, Water and Land Reform (MAWLR) is Implementing a climate change adaptation project titled "Improving Rangeland and Ecosystem Management Practices of Smallholder Farmers Under Conditions of Climate Change in Sesfontein, Fransfontein, and Warmquelle Areas "IREMA Kunene Project. The IREMA project aims to reduce the vulnerability of smallholder farmers under climate change conditions by safeguarding natural capital that generate ecosystem services to sustain agricultural production systems. Under the project activity, the project implemented the scheme to support drought resilient livestock breeds, with focus on small livestock farming practices the project managed to develop IREMA Small Stock Revolving Scheme.
In 2022 the IREMA project procured 630 goats which benefited 29 beneficiaries while Ministry of Agriculture, Water and Land Reform had also procured 441 goats which benefited 21 farmers in Kunene Region.
The training covered a duration of four days at each training site, namely Khorixas and Opuwo. At each training session, agricultural technicians from various wards were involved to ensure close support and backstopping of the beneficiaries in addition to the two interns from the Namibia University of Science and Technology (NUST) who formed part of the training sessions. Training sessions were facilitated by the Agricultural Bank of Namibia Mentor, Extension Officers from Directorate of Agriculture Production, Extension and Engineering Services (DAPEES) and IREMA Regional Technical Officer using different training methods and techniques, including interactive presentations with illustrations; discussions; brainstorming; and question and answers. Training handouts and other relevant literature were presented to the participants as reference materials. Participants were taken through the following issues during the training sessions.
The training covered the following topics but were not limited to animal health, record-keeping, small stock Husbandry, general body condition observations, diagnose sick, healthy goats, kraal hygiene, vaccination and dosing, marketing, flock composition, breeding and many more in general, effect of climate change and advantage of farming with small stock farming, revolving scheme concept, roles and responsibilities of beneficiaries in ensuring successful implementation of the revolving scheme.
The training enabled participants, to understand the production of small stocks, especially animal health, nutrition and animal husbandry, the impacts of the program to improve the livelihoods of the rural community. Participants highlighted that their expectations were met, learned something new and expressed a willingness to share the knowledge gained with other farmers in their respective communities. The participants further expressed their gratitude to the EIF/IREMA project for hosting the trainings, goats received through the IREMA project and for financial support as a result of the IREMA project.