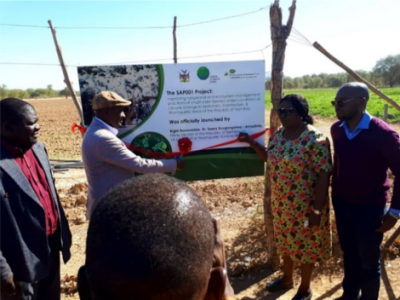 The Government of the Republic of Namibia, through the Environmental Investment Fund of Namibia (EIF), received grant financing of USD 9 million from the Green Climate Fund to implement a climate adaptation project titled "Improving rangeland and ecosystem management practices of smallholder farmers under conditions of climate change in Sesfontein, Fransfontein, and Warmquelle areas. The project is aimed at enhancing agricultural productivity in the Kunene Region. It was officially launched at Warmquelle on 14 June 2019.
In order to create an enabling environment for the successful implementation of the project, the EIF takes cognizance of the importance of ensuring multi-stakeholder engagement at all hierarchies, the national, regional and local government. The project aims to reduce the vulnerability of smallholder farmers under climate change conditions by safeguarding natural capital that generate ecosystem services to sustain agricultural production systems. More specifically, this project is intended to:
Promote investments in integrated drought early warning systems and improve the existing ones;
Strengthen and improve the capacity of key stakeholders in drought risks management at regional, national and local levels;
Support communities to undertake innovative adaptation actions that reinforce their resilience to drought.
It is against this background that the IREMA Kunene Inception Workshop Project was held on the 29 to 30 October 2019 in Opuwo, Kunene Region. The workshop aimed to create awareness on the Project, its implementation modalities and arrangements, and communicate the project outcomes to all the relevant stakeholders to ensure ownership and validation of the Project document.