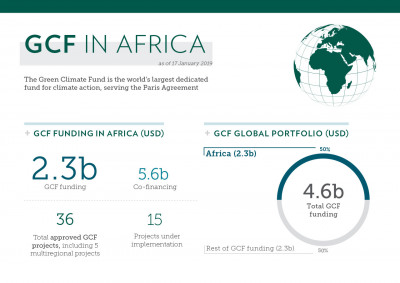 ADDIS ABABA, 14 FEB 2019
On February 9, the meeting of the Committee of African Heads of State and Government on Climate Change (CAHOSCC) took place in Addis Ababa, Ethiopia. The event was held at the margins of the 32nd Ordinary Session of the Assembly of the African Union.

The meeting provided an opportunity for the delegates to review Africa's engagement at COP24 last year as well as to discuss a number of other topics of critical importance for Africa's climate action, such as climate financing, adaptation, and capacity building.

Members of CAHOSCC expressed strong support for the Green Climate Fund's activities in Africa and called for an ambitious and successful GCF replenishment. The statement issued after the CAHOSCC meeting urged developed countries to enhance their contributions to the GCF and to reinforce the commitment to tackle climate change both on mitigation and adaptation. The statement also emphasised the importance of adaptation funding in the region.

GCF was represented at the CAHOSCC meeting by Pa Ousman Jarju, Director for Country Programming, and Joseph Intsiful, Climate Information and Early Warning Systems Senior Specialist. They also held bilateral and multilateral meetings with African Union delegates and exchanged views on the Fund's role in supporting climate ambition in the continent.

Africa is one of the core priority regions for GCF. Over USD 2.3 billion, half of all GCF funding, have been channeled to 36 projects in Africa, 15 of which are already under implementation. GCF has also been actively working with its national partners in the region through the Readiness programme, helping boost the capacity of public institutions and enable them to prepare high-quality and scalable funding proposals. To date, 76 readiness grants worth USD 39.4 million have been approved in Africa.