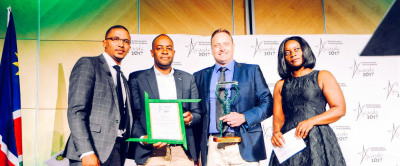 21 September 2017, Windhoek:
The 2nd biannual Sustainable Development Awards ceremony took place on Thursday, 21st September 2017; in Windhoek – where companies, individuals and associations shared a total of N $ 172,000 in prize money across 10 categories.
Rent-a-Drum Ltd. won the honour of the night - the Best Established Company or Parastal Award - for its innovative waste management and recycling programme and their collaboration with Ohorongo Cement on Namibia's first Refused Derived Fuel (RDF) Processing plant.
"Our world faces massive threats from environmental degradation, including pollution and climate change. We need action at every level – from the local community, businesses, journalists, and global commitment - to address these threats." said CEO of the Environmental Investment Fund of Namibia, Benedict Libanda in his welcoming remarks.
Over 90 entries from the Namibian business community, academia and youth entities were received in this 2nd edition of the Awards, eclipsing the previous number of 14 in 2015 by a large margin.
"I am pleased to inform you that we are continuing to improve and grow these Awards. This is evident in the increased number of entries we have received and in the additional number of partners and sponsors that have come on board for this year's Awards," said Ms. Martha Naanda, Vice Chairperson of the Sustainable Development Advisory Council in the night's keynote address. She also emphasized the deliberate approach of broadening the nature of the Awards beyond environmental issues only so that they also take social and economic issues into greater consideration in line with the focus of the Sustainable Development Goals, adopted globally in 2015.
The Awards also recognized Young Achievers Empowerment project as the winner of the Youth Action for Sustainable Development for their region-wide program. They are an active and well-connected organisation that brings together a diverse group of young Namibians, empowering their communities to drive a range of sustainability programs.
The winners of the Sustainable Development Awards 2017 are:
Best Small and Medium Enterprise (SME)
Winner
Desert Secrets (Sophia Snyman)
Runner-up
Tamarind Nott (Mbiri Natural Skincare)
Best Established Company/Parastal
Winner
Runner-up
Best Eco Entrepreneurship among Business Start-Ups
Winner
Qora Trading (Entrepreneur)
Runner-up
Fillipus Aitembo (Entrepreneur)
Natural Resource Management and Utilization
Winner
Namibia Future Farming Trust
Runner-up
Research and Development
Winner
Department of Agriculture and Natural Resource Sciences at the Namibia University of Science & Technology (DANRS)
Runner-up
Prof Habauka Kwaambwa (Lecturer: Namibia University of Science & Technology)
Youth Action for Sustainable Development
Winner
Young Achievers Empowerment Project
Runner-up
Alisa Volkmann (Youth activist and Teacher)
Pioneering Journalism in the field of Sustainable Development
Best Print Media
Winner
Absalom Shigwedha (Freelance Journalist)
Runner-up
Clemence Tashaya (Freelance Journalist)
Pioneering Journalism in the field of Sustainable Development
Best Radio
Winner
Kirsty Watermeyer (Producer: Master Your Destiny (MYD) 99FM)
Pioneering Journalism in the field of Sustainable Development
Best Social Media
Winner
Pioneering Journalism in the field of Sustainable Development
Best Television
Winner
Blanche Goreses (News Presenter: NBC TV)
Runner-up
Adolf Kaure (Freelance journalist)
The awards ceremony was held at the Windhoek Country Club Resorts & Casino and was hosted by comedian Iileka.
For photographs from the Awards dinner and more information on the winners, visit www.eifnamibia.com. For media information or interviews, contact Lazarus Nafidi on +264 61 431 7706.